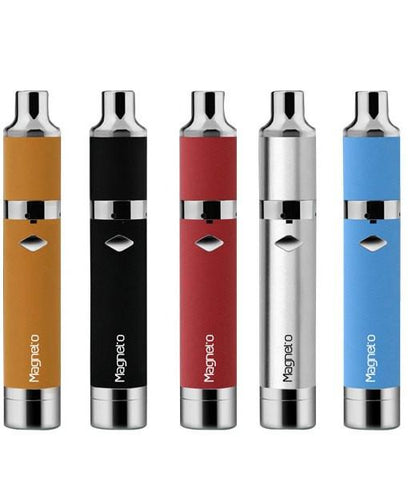 YOCAN MAGNETO WAX VAPORIZER
Yocan Magneto
The Yocan Magneto is the game changer in wax vaping.  This all-in-one device includes everything you need to take, your wax or concentrate with you.  The Magnetic coil cap built with Dab Tool, built-in silicone jar, everything is packed into this compact modern device.  The magneto is the perfect on the go device for wax vaping at an incredible value.  
Instead of traditional thread connection, the Magneto introduces a modern vaporizer design with Magnetic Connection between the atomizer tube and base, saving your time.  It is an evolution forward in wax vaping, improving all the ways that a vaporizer is used everyday.  
This functional coil cap which prevents messy leaks, is also with modern Magnetic Connection. Magneto, improving upon every aspect of the vaping experience
Magnetic Coil Cap built with Dab tool makes everything pretty easy.  No extra dab tool, just use the bottom of the magnetic coil cap as a dab tool to grab your wax, and put the coil cap back on.  That's it.  Dabbing wax couldn't be easier.
The Magneto deliver huge clean hits with its ceramic coil.  The wax melted on the first layer, then goes into the second layer to atomize.  The hole on the side is designed for speeding up the vaping process.  A superior design which sets that Magneto apart.  A perfect choice for strong, clean tasting, vapour.  The Magneto is the pinnacle wax pen for the connoisseur.
Small and discreet fits in the palm of your hand, super compact and powerful with 1100mah battery capacity.  The power button is designed for ergonomics with smooth touch.  Much more easier to click the button.  
The magneto comes with Micro Usb charging for ultra convenience, perfect on the go device.
It also packing a 2ml non stick silicone jar inside the base for all in one handling.  Magneto, meets all your concentrates needs of dabbing