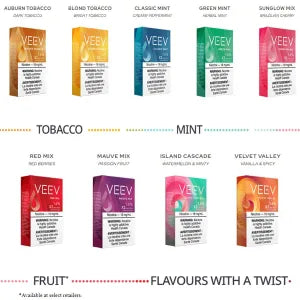 VEEV PODS (TAX STAMPED)
2 Pods Per Pack.
1.6% Nicotine Per Pod.
Classic Auburn: A Sophisticated Combination Of Tobacco Aromas With Silky Nutty Notes Infused With Delightful Warm Flavours.
Classic Blond: A Subtle Combination Of Tobacco Aromas With Discrete Undertones Of Floral Notes.
Classic Mint: A Flavouful Composition Of Cooling Menthol With Peppermint Notes Balanced With Creamy Nuances.
Green Mix: An Elegant Mix Of Cooling Menthol With Herbal Notes Balanced With Subtle Creaminess.
The VEEV is a device that looks as great as it tastes! The pods for the device are available in packs of 2 at 1.6% nicotine.The MESH heater in the pods remains in constant contact with the e-liquid, which means taste consistency every time. In addition, a "low liquid detection" feature prevents overheating or "dry puffs" that produce a burnt taste. Available in a handful of tasty flavours!