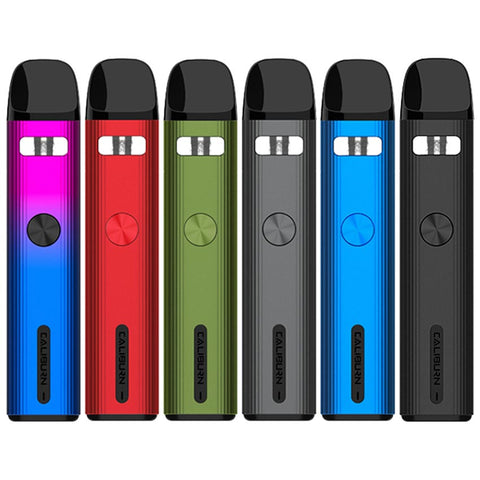 Uwell Caliburn G2 750mAh Starter Kit
Uwell Caliburn G2 750mAh Pod System Starter Kit With 2ML Refillable Pod
Vibration Interaction, Progressive Airflow Adjustment, Compatible Coils. The device gives haptic feedback to the users through different vibrate patterns. It notifies short-circuit, low voltage, overdraws, etc. Caliburn G2 adopts a wheel adjustment for the airflow. It is easier to get your ideal airflow and tastes with precision.
Features:
Material: PA Aluminum Alloy
Size: 110.5mm×22.5mm×13mm
E-liquid Capacity: 2ml
Net Weight: 36g
Output Wattage: 18W
Battery Capacity: 750mAh
Coil Specifications: FeCrAI UN2 Meshed-H 1.2 Ω | FeCrAI UN2 Meshed-H 0.8 Ω

Included:
1 x Caliburn G2 Pod System
1 x UN2 Meshed-H 1.2 Ohm Caliburn G2 Coil (Pre-Installed)
1 x UN2 Meshed-H 0.8 Ohm Caliburn C Coil (Spare)
1 x User's Manual
1 x Type-C Charging Cable

Available Colors:
Carbon Black | Cobalt Green | Gradient | Pyrrole Scarlet | Ultramarine Blue