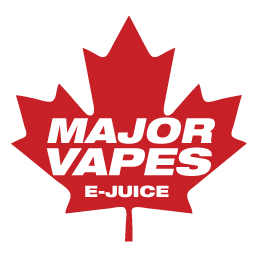 MAJOR VAPES E-JUICE
Belle Tobacco – Our best selling tobacco blend. Smooth and full bodied. Belle Tobacco (Mont Tobacco) - A rich, smooth, and full-flavored tobacco, 
Black Honey Tobacco – A great tobacco taste with a side of sweetness from the honey.
Canuck Menthol – Bold and refreshing, this is Canadian winter in a bottle

Creamy Menthol – Rich tobacco with a creamy mint finish.
Early Grey – A warm and mellow earl grey tea with a hint of citrus.
French Vanilla – A smooth and mellow blend of fine vanilla extracts.
Major Menthol – Icy, crisp, and refreshing. A menthol tobacco fan favorite.
Peppermint – Minty, fresh, delicious.
Flavourless – A flavour and scent free vape!