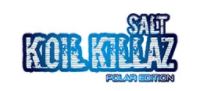 KOIL KILLAZ POLAR SALTS (TAX STAMPED)
SAME GREAT FLAVOURS FROSTED!!
BLITZ 
Watermelon, Blueberry, Pear
SAVAGE - 
In the heat of the tropics, there is no rest for the pack...till blood is shed. This climactic blend features the mellow of refreshing watermelon and kiwi, combined with the tart edge of crimson strawberry fruit. So brutally good, this liquid will have you on the verge of unhinged.
FURY -  
A tropical frenzy of fresh pineapples, juicy black currant and coconut are smashed up in the pack's all-new secret weapon flavor - a taste truly fit for the gods. 
 PRIMATE -
Stomping with fruity goodness; Sasquatch will surely awaken your tastebuds and bring you to a tropical rainforest full of thick vines of sweet bold grapes and delicious crisp green apples. It's no wonder these flavours bring out such a legendary beast!
AMBUSH -
We're not beating around the cranberry bushes on this one! Two furry primate palmfuls of juicy cranberries, green apples, and red apples SMASHED! together into the ultimate sweet and sour sensation. This flavor goes full assault on your tastebuds!
RAMPAGE - 
Luscious pink guava, sun-ripened mango, and sweet pineapple-picked fresh from the jungle, then thrashed into this bottle of frenzy-inducing elixir! This is the product of a great ape's rage...