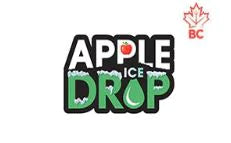 APPLE DROP ICE FREEBASE NIC(TAX STAMPED)
APPLE DROP REGULAR AND ICE
APPLE BERRIES - Delicious red and green sour apple tossed together with an assortment of delicious berries.
DOUBLE APPLE - The classic pairing of red fuji apple and tangy green granny smith for that sour kick. 
WATERMELON - Juicy sweet watermelon accented with refreshingly crisp apples.
PEACH - Juicy red apple with sweet ripe peaches.
LYCHEE - Exotic notes of lychee blended with red apple.
GRAPE - Tangy purple grape juice blended with a green apple base. 
CRANBERRY - Tart cranberry mixed with sweet red apple.
70% VG 30% PG